Danny Piano
Vice President of Operations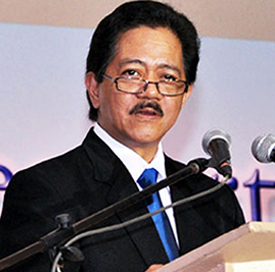 Danny Piano has extensive experience in the IT field having worked for the U.S. Navy as a civilian mainframe programmer in the 1980s up to 1992 when he was sent to various U.S. Naval bases to set up applications in mainframe computer systems including that in Washington, DC. He also worked as a MIS Specialist for the Royal Saudi Navy and for General Dynamics in its Kuwait project.
In 1995, he was hired as Systems Manager of Absolute Service, Inc. – Philippine Branch and was soon after promoted as Philippine Operations Manager and then as President of its Philippine Branch. Danny was instrumental in transforming the company into a highly technical full-service organization that caters to major book publishers from the U.S. market. Through his leadership, the company was awarded the SSS Best Employer Award. In 2011, ASI was awarded the Employers' Confederation of the Philippines' KAPATIRAN Award in the strategic workforce development special category. The award was presented by no less than Philippine President Benigno Aquino III.
While at the helm of ASI, he was elected in 2006 as a Board Director of the Subic Bay Freeport Chamber of Commerce, an organization of companies located inside the Subic Bay Freeport with a total investment of more than $7 billion at the time. He was soon after elected as President of the organization from 2009 to 2013. During his time as President, the Chamber truly became the voice of the business community where the organization, under Danny's leadership, worked closely with local and national government agencies. He personally crafted a number of position papers where some were addressed directly to Philippine President Gloria Arroyo and later to, President Aquino. In 2014, he was conferred the President Emeritus title, the first in the Chamber's 20-year history.
In 2007, he was invited to be a professor of a graduate course in business at the University of the Philippines. To this day, on Saturdays, he still teaches Marketing Management and Global Marketing subjects. Frequently asked how he still finds time to teach, he usually responds with a smile, "It's fun to be Yoda at least once a week."
In 2012, he helped set up the operations of Caring One® where he is now also a Vice President of Operations and Director of IT. Danny sees a huge potential in the BPO sector, especially in the healthcare niche where Caring One® is positioning itself on. Asked how the company can compete in what seems to be a quickly saturating sector, "Make sure that your ratio of customer benefits over price is higher than your competition—that's what it all boils down to," he replies.
Danny Piano has a degree in Civil Engineering, took Mechanical Engineering and Computer Science courses, and is a graduate of a Master in Business Management from the University of the Philippines.